A sampling of some of the gracious testimonials our couples have been kind enough to give us over the years. 
Forever Together, Seattle thanks you for your support. Your satisfaction is always our top priority!
I wanted Forever, Together because they offered a bilingual ceremony and with my husband and his family being bilingual I thought that it would show them that I know that their culture is very important to them. My husband and I had some very last minute changes and additions to the ceremony and Rev. David took in all in stride, even though that meant he'd have to practice it so that the ceremony would sound great. He did awesome. The bilingual ceremony was perfect. Everyone has said that it was just perfect. Thank you!!!! – Norma and Jeff
Joanne, all the "thank you's" in the world are not enough for the amazing ceremony you did for us! It was perfect in every way. – Sarah and Chris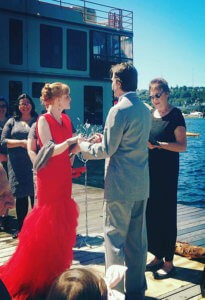 We were so lucky to have David as our officiant for our wedding, since he has many years of experience and was very personable. When we booked him, he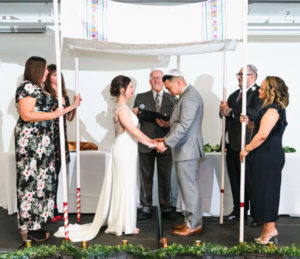 e-mailed us several documents offering examples of different ceremony styles to give us some ideas on how to create our ceremony outline. Honestly the whole process was super easy, and he even shared some vows examples for inspiration. We were only able to schedule the ceremony rehearsal on the day of the wedding, but David arrived an hour early before the ceremony and we were able to do a quick walk-through with no issues. He went through our ceremony smoothly and even threw in some humor for a few laughs. We loved our ceremony and David did an excellent job throughout the whole process! – Rossana and Stan
Joanne, thank you so much for marrying us – it was perfect! We are so happy with how everything went, so happy we had you marry us. You made our ceremony exactly what we wanted! Thank you, also, for taking care of all the paperwork. Hope you had a wonderful weekend. I promise to email you pictures as soon as they come in. Thank you so much again! – Meagan and Mikhai
Again thank you for an amazing service. Everyone was especially moved by our decision to include our daughter. That was a great addition. Thank you! – Michael and Carolina
Thank you for your participation in our ceremony! It was absolutely perfect and exactly what we wanted – sweet and simple. I heard several comments about how beautiful the ceremony was – from the opening remarks to the final Navajo blessing – and it was all thanks to you for inspiring us!! We really appreciate you and your role in the day. Please let me know if I can leave a review anywhere – happy to do so! – Louisa and Juston
Jay and I wanted to let you know that you did a wonderful job on our wedding. Everything went as planned and it was perfect. We were delighted to meet Joanne and glad that she could join all of us for dinner and the cake. We have received many positive comments on your services and the wedding – Suzan and Jay
It was such a wonderful and rewarding experience working alongside Rev, David for my wedding. Besides all the stress of planning the wedding, Rev David made it go so smoothly when planning the ceremony. I made so many changes to the ceremony from beginning to end, yet he was always so pleasant and flexible while working with him. He made the ceremony so beautiful, I will always cherish the memories of such a wonderful and special day 🙂 – Soni
Joanne, the wedding was absolutely perfect! I couldn't have asked for anything better! Your ceremony was lovely! We loved the words that you used. It was exactly the wedding we wanted! – Courtney and Marcus
Our wedding was perfect because of David Cooper and his wife Joanne, (aka Forever, Together)! We wanted a short, sweet, and meaningful "exchange of wedding vows"! David and Joanne made this happen! We were married in a beautiful Hotel Suite at the Grande Hyatt Hotel, with a fantastic view of the Puget Sound, with our four best friends as our witnesses. It was very personal and intimate, exactly what we wanted. David and Joanne made our wedding special! David was easy to work with, and his great sense of humor makes everything so much fun. – Christy and Brad
I had probably one of the best experiences with them that you can receive from a business/vendor. Having to plan my wedding while my husband was on deployment (on top of being pregnant at the time) was incredibly stressful; I honestly had no idea what I was doing at first. After contacting David and his wife for their business to officiate my wedding, I felt a million times better. I never had any stress or problems getting in contact with them with questions or advice, or anything else and they were always a pleasure to speak with. And of course on the big day, I couldn't have imagined my wedding going any better. It was truly amazing and I will cherish that day forever. I would definitely recommend them to everybody. – Ashley and Brandon
Joanne was a blessing, as she offered to be our official photographer! She even knew all the right poses! David is organized and experienced, so the entire process is easy and stress free! And all online! Because he gave us several examples of wedding vows to choose from, we could pick parts of different vows and come up with our own. Our wedding vows felt very customized and personalized, and perfect for us! He also informs you of all the steps to get your marriage license and will mail them after the ceremony! David and Joanne make a great team and a great wedding. Thanks to both of them, we had a relaxed, enjoyable wedding experience. I highly recommend their services! – Christy and Brad
I hired Rev. D. Cooper for my wedding almost a year before our ceremony. David kept in touch the whole time before the ceremony and offered to meet me for coffee if I had any questions. He gave me multiple ideas for writing my own ceremony and didn't change it once I sent it to him for approval. He made the necessary changes to make everything flow together, made it sound like a professional wrote it. He was very respectful of what we wanted him to wear during the ceremony, a shirt and tie at least. He wore a very nice suit, even matched his tie to the color scheme of my wedding. I wouldn't have been happy with anyone else marrying me!                                                                                                                                                           
I got a bit nervous when I realized we were ready to walk down the aisle and I hadn't seen the officiant, but Joanna made it in time. She quickly walked us through the process and we got married. We appreciate the paperwork being taken care of for us and the ceremony was absolutely lovely. I could not have asked for more. THANK YOU!!! – Stephanie and Russell
Rev. David Cooper was awesome. He was entertaining in his officiating. I even heard a couple of people talking to other people commenting on how wonderful he did. David is a warm caring person who is a joy to interact with and provided inspirational advice. I would recommend him to anyone. – Craig and Nancy
We worked with Rev. David for our wedding. David was more than happy to meet with us for a complimentary consultation so we could get to know him and talk to him about his services. We hired him on the spot. David gave us so many materials so that we could put together and build our own ceremony the way that we wanted to. I emailed David on MANY occasions, either with questions or looking for recommendations about various things; David always responded super fast. He is very patient, kind, funny and creative- we received many compliments from friends and family about him after our ceremony. The pricing is also very reasonable! My husband and I both highly recommend Rev. David!!!! – Katie
"Joanna was an exceptional officiant! Thank you for the super ceremony and the fabulous input on our ideas. You are awesome!!" – Suzette and Francois
"The wedding was perfect! Thank you so much again for allowing us to create our special ceremony! Everyone loved it! Thanks so much for being our officiant! You were amazing and we will definitely recommend you to others!" – Jamie Lynne and Daniel
David was a pleasure to work with at our recent bilingual English-Spanish ceremony in Poulsbo!"
Thanks so much for everything! You made our ceremony preparation and the ceremony go so smooth! We couldn't have asked for a more organized, calm, and prepared officiant! Also, thanks for your calm, encouraging, and positive words during the ceremony itself. I was so happy, and overcome with emotion, and just hearing you say "step this way" and "don't forget to breathe", made me more calm 🙂 We really loved having you as our Officiant, and we are delighted to pass on your name to others in the future. Thanks so much for also sending such detailed info regarding name change, etc. That is truly such a help! Take care, and I will keep my file of emails from you in case I can refer you to more couples in the future. By the way, my Mom and Aunt loved how you spoke during the ceremony. They enjoyed the "tone" that you set to the words. They said it was very happy and positive and romantic. Thanks so much for caring about our day. You are truly wonderful at what you do!" – Jacqueline and Ilberto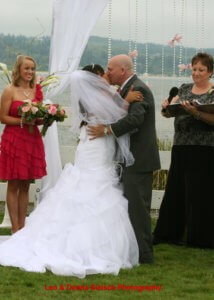 "Joanna was great! We had a somewhat complicated Jewish-Ukrainian wedding with our friend reading the blessings, and special things placed before us and so on…well Joanna was game 🙂 The service was great and not too long when guests are yawning and looking at their watches." – Julia and Sergiy
"We wanted to take a moment to thank you for your wonderful work as Officiant at our May 20 wedding. It was easy and worry-free communicating with you beforehand, and we really felt you listened so well and captured the tone and spirit of the ceremony we wished for. And we were also so grateful for your flexibility, when we came up with our own original interactive tradition (a book binding ceremony) and you got right in there and did it like you'd been doing book binding ceremonies for years! Thank you for doing your important role in our special day so very well. We highly recommend you to anyone who is looking for an Officiant with a positive presence, great communication skills, and the ability to listen and truly care. Thank you!" – Kim and Steve
"Omar and I want to take a minute to thank you very much for officiating our wedding. Thank you for coming on time and being with us. My parents liked the way you officiated our ceremony and are very glad with the way you did it. I know we made a lot of mistakes, but after all it was very nice. Thank you from the bottom of our hearts." – Georgina and Omar
"Joanna provided a wonderful ceremony, and handled the "ad lib" moments without a hitch. My new wife and I still look at the pictures very often and are so happy to have had such a wonderful experience at our wedding with Joanna. We recently received the Marriage certificate and a copy of the ceremony which we will treasure forever. Thank you Joanna for providing the intimate experience we so wanted." – Janet and Tom
"Thank you so much! It seems like I cannot convey to you how perfect the ceremony was! Your guidance and input created a ceremony way beyond our dreams. We just want you to know how much the Hand Ceremony that allowed our daughter to be part of proceeding meant to us all. Nearly every guest told me after the fact that they thought it was the best, most meaningful and perfectly timed ceremony they'd ever seen. Your list of vows was another amazing, easy process that completely made the ceremony our own and all the more perfect without any of the stress of having to write them from scratch. Please feel free to use us as recommendations anytime, or post our thoughts on your website." – Elizabeth and Steven
"Joe and I want to thank you from the bottom of our hearts for everything you did! We loved loved loved you, and how well you did at officiating our wedding on 11.11.11 in Auburn. You made us feel so much at ease and we fell in love with your personality! We are so grateful for the hard work you put into our wedding and helping us make it that much more perfect!" – Rachel and Joe
"David was extremely friendly and easy to work with. He was very flexible with us, working with us to incorporate all of the personal things we created and needed incorporated into the ceremony. He was prompt for the rehearsal, and very good at communicating from the time we booked the services, all the way until the wedding day- with an open communication policy which we both appreciated. With his good nature, humor and ability to touch our audience with the delivery of our ceremony, David's services are highly recommended. Thank you Reverend Cooper for officiating our wedding!"- Eraina and Han
"Joanne, we want you to know that you were much more than a Wedding Officiant to us. As a matter of fact, the following words come to mind: knowledgeable, prompt, dependable, innovative and creative. We sincerely hope your provision of services flourishes! To you, we extend a million thanks for not only coming through in a pinch – truly all occurs for a reason. Your insight, direction and input were invaluable. We also found your company and your conversation to be sparkling! Thank you so much for the lovely orchestration of our nuptials. You gave us the type of ceremony our hearts desired. We will never forget your amazing services." – Yvette and Brent
"Reverend David did an amazing job directing our wedding rehearsal and ceremony! He was prompt, personable, fun and made sure everyone knew exactly what they were supposed to do. His booklet of ceremony examples gave us plenty of ideas and we were able to create our perfect ceremony. We went on our honeymoon the day after and had forgot to make copies of the wedding certificates. We needed them as proof for a newly wed vacation package we signed up for. I called David and he quickly scanned the certificates and emailed to us. We were able to print everything out just before we headed to the airport! He really went above and beyond what we had expected! I highly recommend him to anyone that will be getting married! Thanks again David!" – Amanda and Quoc
"We are so glad to have found and met you. You performed our wedding ceremony perfectly – with very little instruction. Thank you and sorry about that! Your advice about the "Blessing Stones" rocked! Thanks, we'll always recommend you!" – Kate and Rick
"I enjoyed very much working with Rev. Cooper. He was more than willing to "meet" with me from opposite sides of the state and did not have any problems with my need to communicate by phone or email. My wedding was absolutely perfect and I am very glad David was there to help. I would recommend Forever, Together to everyone!" – Jennifer
"Joanne did a wonderful job with our ceremony. She was punctual to the rehearsal and day of the wedding and made sure that we were all happy with the way things were laid out. Thank you!" – Lacy and Dewayne
"We lived in Spokane, and had our wedding in Seattle. David was very helpful via email and phone working with us, since we were unable to meet in person prior to our wedding. I'd also like to add that despite this being the second marriage for both of us, we really had no idea how to put vows/wedding together. David was very helpful and really made it a joy for both of us to review the pieces that make up a ceremony and to pick out exactly how we wanted the ceremony to flow." – Robieyn and John
"You made us laugh, put us at ease, and conducted a perfect ceremony. You made our wedding so special and will be a part of our lives forever! We truly appreciate all of your hard work and your great personality. Thank you so much!" – Rachel and Joe
"We thoroughly enjoyed getting to know you and thought you did a wonderful job. The ceremony was beautiful, and we received so, so many compliments on the order, the readings, the blending of the sands, etc. It couldn't have gone any better! We are very happy and are so excited about sharing our lives together. Thanks for being part of our special day!" – Tricia and Brian
"Joanna was very friendly from the very start. Our first meeting was relaxed yet extremely informative. She will help you from start to finish and answer any questions you have. Joanne really cares about each couple and the love they share." – Aimee and Kenny
"We wanted to extend our deepest thanks to you for marrying us. We could not have asked for a better person to be such an instrumental part of our special day. Your warmth and kindness spread throughout our ceremony and your ability to roll with the unexpected was wonderful. We thoroughly enjoyed working with you through the process as well. We felt very at ease during the way. All of your materials and suggestions helped us to ensure our ceremony would be all that we dreamed of, and it was! Thank you again for all your efforts." – Abbie and Brian
"Rev. Joanna Marie was amazing, she not only helped my husband and I plan our very short notice wedding giving us suggestions where she thought it might help including helping us locate a venue. It was a very beautiful ceremony, professional, and even laid back where it needed to be. It felt as if she was part of our family. My husband and I would recommend her to anyone. Whether it be a large ceremony or even an elopement, you won't be disappointed!" – Dee
Joanne was great from our very first meeting. We didn't have a wedding rehearsal so everything was planned online or phone. My partner and I have uncommon names that are often mispronounced, but Joanne said our names correctly. Everyone told us how beautiful our service was and had nothing but kind words for Joanne. I don't know if we were her first same sex-wedding, but if we were, she didn't show it. Forever, Together gets two thumbs up! Thank you so much!" – Treva and Da'yo
"Joanne, thanks so much for the beautiful wedding service. It was truly wonderful." – Brenda and JD
"David was our Officiant and we were very pleased with his thoughtfulness, the time he spent working with us, and how well the ceremony turned out. Everything was very low-stress and went smoothly.We highly recommend David and his services." – Jami and Ben
"Aaron and I could not be more happy…could not have asked for a more perfect night! Thank you for being a wonderful part of that. We have had SOOO many comments on the beautiful ceremony!!! You did a wonderful job, and we thank you." – Laura and Aaron
"Thank you so much for making our wedding so beautiful! It was exactly what we were looking for! :)" – Lisa and Paul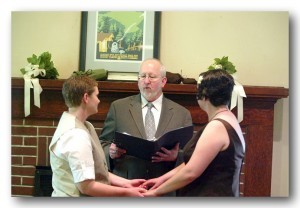 "Joseph and I really wanted to say thank you so much for doing an awesome job! You did so well on the ceremony and you were so helpful in the planning! Everyone who attended gave nothing but wonderful compliments on you and thought you did an amazing job! Thanks again for making our wedding day wonderful!" – Kassie and Joseph
"We love David! He came highly recommended from an event planner and David went well beyond the call of duty for us. He was a wealth of information and was incredibly positive and patient with my wife and me. My wife had a few nerves about having a larger wedding and initially wanted to elope. About a week before the wedding we realized that we could do both (elope and still have a larger wedding). David moved a few things around and married us in our living room a few days later. At the larger wedding David was great and stayed as our guest through the entire evening. Everyone we spoke to told us how great he was and we couldn't agree more. Thanks again David!" – Irina and Michael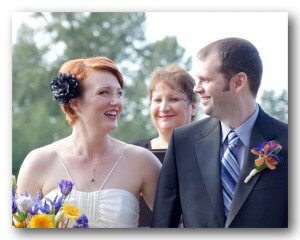 "Joanna was an excellent officiant. I am very pleased with the amount of material she gave us to work with, her willingness to drive out to meet us, and her general air of confidence about making our wedding day fantastic. When I began the planning process, I had no idea what to include in my ceremony, and Joanna gave me exactly the tools my husband and I needed to personalize our ceremony and make it reflect not only our feelings for each other, but our vision of the perfect wedding. Thank you Joanna!" – Mikaela and Christopher
"David was my officiant on my August wedding. I was very nervous about picking an officiant but I was quickly set at ease. David met my mother and me at Starbucks and I quickly decided he was the right man for the job. We met for about an hour and he answered all my silly questions, and offered suggestions for the some of the "traditions" I was uncomfortable with. He also sent me later that day a ton of wedding ceremonies to chose from. He even did research to find more readings. He arrived on time, even though I didn't walk down the aisle on time, he put me at ease. He made sure to double-check how to pronounce some Ukrainian names correctly of some family members who have passed on. His voice level was perfect for our outdoor wedding (I was nervous people wouldn't be able to hear). His aspect of my wedding went perfectly when other parts didn't. I had so many compliments about the "rose ceremony". Ask him about it, it was wonderful." – Heather and Chris
"Just wanted to thank you again for the services you provided at our wedding. We obviously couldn't have been married without you, but we can't imagine having anyone better, either. You did a great job, a phenomenal job. Everything went exactly as we'd hoped; well, except for those things that were out of your control like a ring that was mis-sized and handfasting cords temporarily misplaced :-). You were great to work with and made the entire process so easy – especially for a couple that is pretty laid-back and just wanted to get married and live happily ever after!" – Jennifer and Graham
"It was truly a pleasure to have you perform our ceremony. We both felt as though we had known you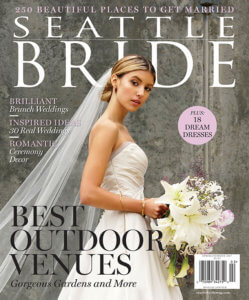 for years even before we met. Any couple to have you do their ceremony is a very lucky couple! Thanks again and best wishes to you and your family. – Devin and Kim
"Rev. D was the officiant for our wedding and did an AMAZING job. He had a long way to travel but was nonetheless, about an HOUR early and was there to make sure we had every little detail worked out! He ran us through a quick rehearsal and ensured all the pieces of our ceremony were in order prior to. He even helped get everyone seated so that we could begin! We would highly recommend David to anyone looking for a wonderful wedding ceremony!" – Crystal and Brad  
"We were beyond appreciative of you stepping in to perform the ceremony. You were very professional and timely with presenting to us that you would be stepping in, and we were thankful for the way you both coordinated to make sure the ceremony happened for us. We also appreciate you having been prepared with the ceremony "agenda" that we had worked to prepare. Our hats are off to you!" – Alison and Eric
"Joanne, thank you for making our wedding day so special and memorable!" – Christina and Richard
"We wanted to send a note to say, 'Thank you!' The ceremony was terrific, we couldn't have been happier.  Thanks for helping to make it a great day!" – Kim and Aaron
"We had SUCH a wonderful day yesterday! We both loved the ceremony… it was exactly what we'd hoped it would be, and many of our guests told my mother that it was the best ceremony they'd ever been to. 🙂 Thank you so much, from both of us, for the beautiful work you did." – Abi and Seth
"You will enjoy working with Forever, Together Seattle Wedding Officiants. Having your vows come together seamlessly is very important to David and Joanna. Caring, creative and compassionate ceremonies…expect it from these two!" – Palmer Events, Fox Island, WA
"Looking for an officiant in March for an August wedding was a mistake, we had waited too long. As it happened everything worked out just right. David and Joanna had been planning to take a vacation that week and had canceled because requests for that weekend were overwhelming…lucky for us! It took just minutes to decide David was the perfect officiant for us to work with. I couldn't have asked for anyone to be more flexible, professional or easy to work with. His humor complemented ours to a "T." David went out of his way to make our day special and very memorable not to mention as stress-free as possible. We would not hesitate to recommend David to anyone and hope we will be able to have him present for our vow renewal 25 years from now!" – Christine and Noah
"Reverend Cooper, thank you again for doing such a fantastic job with our wedding. I know it's not your full time job but it sure could be! You are a true professional and we couldn't imagine the entire day going any better than it did. Thanks again for everything!" – Amy and Gabriel
"Dear Joanne, we wanted to thank you so much for your wonderful words at our wedding. We could not have imagined anything better to have been said. We both thought that the collection of wedding/ceremony/tradition ideas were great to have, especially when we had no idea where to start with the ceremony! We also wanted to thank you so much for officiating our wedding on such short notice." – Lindsey and Dennis
"David, thank you so much for performing our wedding ceremony. You were a very good sport for putting up with a muddy hike, cold weather and a handful of kids! The ceremony was beautiful and perfect – we would highly recommend your services!" – Leslie and Mark
"Joanna, what a lovely ceremony! Thank you for being a part of our wonderful day!" – Steph and Curt
"David did a wonderful job. I picked all the pieces of my ceremony and he placed them together for me beautifully. Everything flowed really well and nothing went wrong. The ceremony was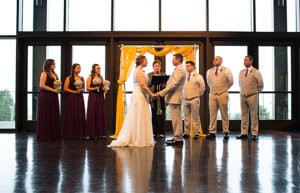 beautiful. I think everything went pretty perfect and was everything I dreamed. His wife, Joanna, also helped out because she didn't have a wedding that day and the drive from Seattle to Bellingham is long. She did an excellent job helping us figure out exactly what we were supposed to do and when." – Lori and Mike
"Joanne, we were extremely happy with your services and the whole ceremony. Our friends all had tears in their eyes so it was definitely very touching. We also want to thank you for all your patience during the short planning time of the wedding. We often were forgetful but everything turned out well beyond our expectations thanks to Joanne and our friends." – Orsolya and Soroush
"Joanne, I just wanted to say thank you for being a part of our very special day. This day means everything to us – Mario the kids and I, and our whole family – a day that a lot of our family have been waiting a long time for. So thank you for helping make this day possible." – Christina and Mario
"We're very satisfied with the service of Forever, Together. David was very responsible and helpful, really did a wonderful job for our wedding and made our wedding so holy, so funny, so sweet. A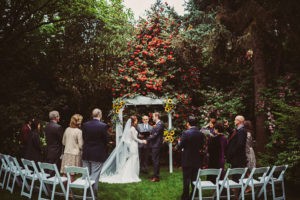 lot of our friends asked us where we find him! 🙂 Also we think their price is very reasonable compared with other Officiants in the area. Highly recommend!" – Yue and Xiang
"Joanne, I just wanted to let you know you did a great job!!! Exactly what we wanted! Thanks!" – Michael and Elizabeth
"David was amazing! We struggled to find an officiant that would fit us as well as our budget. We were very impressed with Forever, Together. David was the one available on our wedding date and came to meet us beforehand to make sure they were a good fit. We had no idea how to incorporate our personal style into the ceremony and David had a ton of ideas and readings to choose from. He was easy to talk to, even my husband enjoyed our meeting! The best thing I can say is that the guests still mention what a beautiful wedding it was and how "us" the ceremony was and all for a price we could afford! – Julie and Jeff
"We were very happy with the ceremony that Reverend David Cooper performed. It was lively, entertaining and perfect for what we wanted for our wedding." – Rik and Cynthia
"David was amazing! We struggled to find an officiant that would fit us as well as our budget. We were very impressed with Forever, Together. David was the one available on our wedding date and came to meet us beforehand to make sure they were a good fit. We had no idea how to incorporate our personal style into the ceremony and David had a ton of ideas and readings to choose from. He was easy to talk to, even my husband enjoyed our meeting! The best thing I can say is that the guests still mention what a beautiful wedding it was and how "us" the ceremony was and all for a price we could afford! – Julie and Jeff
"Thank you so much for officiating our wedding. It went beautifully and we had many compliments on the ceremony itself. You made the ceremony so special and wonderful we simply can't thank you enough!" – Caitlin and Nick
"Rev D: Thank you again SO much for a wonderful ceremony! Everyone complimented us on our service and we have you to thank for that. We had such a fun time at our wedding, and we owe a lot of it to you to get the party started right! =) Thank you sincerely from the bottom of our hearts!" – Joyce and Patrick
"We chose to use Rev. D. as our officiant with only about a month before the wedding. He was so helpful, so wonderful, we are so happy we chose him and were lucky enough to have him be a crucial part of our wedding. We would highly, highly, highly recommend him and his wife – you will not be disappointed! They are prompt, fun, energetic and ready to help in any way they can. Thank you so much for making our ceremony so easy and effortless. It was wonderful, we couldn't have asked for more. You are the best! Everyone loved you! We will spread the word :)" – Brooke and Kurtis
"Joanna, thank you for the ceremony. It was great and we both enjoyed it very much. – Joe and Rose.
"David was fantastic! He performed the ceremony exactly the way we wanted and we could not have been any happier. We really enjoyed his sense of humor and his attention to details." – Monica and Kyle
"Joanne was a wonderful officiant. We enjoyed meeting her, and she immediately put us at ease. My husband had never been married before, and was very nervous about meeting her, and the ceremony itself. Her kind and professional demeanor put him at ease immediately, and there was never a moment's doubt for him after that! I highly recommend Forever, Together for your wedding!" – Susan and James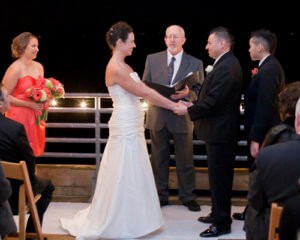 "We couldn't be happier with the way our ceremony turned out. We really appreciate the time you took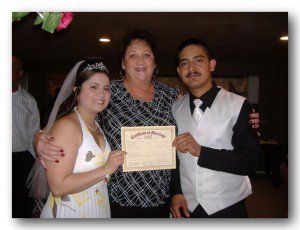 to listen to what we wanted, add your own expertise and pull together the finished product. The end result is just what we had hoped it would be! Thank you for all you've done. We won't hesitate to recommend you to our friends." -Michelle and Dave
"David was wonderful! Of all the vendors we had to work with he was by far the most helpful and least stressful of all of them. He was very quick to respond to email (my favorite form of communication when stressed with wedding issues!), he has a very friendly attitude that we did not encounter with some other officiants we interviewed. He loves what he does and it truly shows. David works for a wonderful price (he is worth much more than he charges) and although it was one of the most inexpensiveve purchases for our wedding, the return was so much more than everything else put together. He rolled with my groom and my mistakes and he was not rushed to get out of there after. He is a true friend, and a lovely person. We are so thankful that we found him, and we could not sing his praises enough! With sincere thanks," – Paul and Donna
"I'm so happy that you were there for us and you had such a good time. You really came through for us in so many ways and we will ALWAYS keep in touch with you ;)" -Jackie and Josh
"Thank you so much for all your help with our wedding. Everything was perfect. We would be happy to write a referral for you anytime!" – Brett and Teri
"We're so happy that you were able to be there on our special day. The ceremony was absolutely perfect and we have you to thank for that!" – Diana and Jason
"It was wonderful to work with Rev. Cooper! He was open to the ceremony that a family member had written, but still offered suggestions where he thought they would help. His presence and personality as well as his sense of humor put us at ease from our first meeting. Finding an Officiant was one of the hardest things for us, and we were blessed to find him. All our guests (as well as ourselves) were incredibly pleased with the ceremony and several mentioned to us that it was one of the most beautiful weddings they had ever attended." – Kassandra and Matt
"Thank you so much for officiating for us on our special day, Joanna. You have been great. We really appreciate it!" – Ron and Nicole
"David was amazing; he made our day feel like just that..our day. We have had so many comments on how beautiful our ceremony was and we would not have been able to have it be as perfect as it was without David. I would recommend him to anyone, he really listens to what you want and is so great to work with; I loved his sense of humor and how relaxed he made us feel." – Michelle and Walt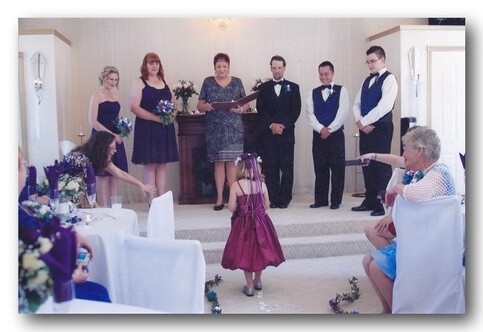 "It was a perfect day in our opinion. It couldn't have been any better! Thanks for doing such a great job for us. You are fabulous and have a great sense of humor (definitely a necessity on a wedding day!) We were so happy with our ceremony and it was our favorite part of the events of that day. Great memories!!" – Sara Anne and Brendan
"You did an amazing job and we were very lucky to have you marry us." – Sharon and Bob
"Recently we photographed a wedding where David was the officiant. The ceremony was touching with tears (of joy) and laughter. We enjoyed getting to talk to him briefly, we found David to be down to earth and he sincerely loves what he does and it shows in the ceremony. We hope we have the opportunity to work with him again or maybe next time in getting to meet his wife." – A Family Affair Photography
"I had the opportunity to work with Rev. Joanna Marie, and she was very warm-hearted, sincere, and professional. I refer all of my brides and grooms to her. 🙂 Prices extremely reasonable and Forever, Together seems incredibly flexible as well! Highly, highly recommended!" – Forever and After Photography, Renton, WA
"Joanne and David are a warm and wonderful couple and both do a great job as Wedding Officiants. They put great effort into creating wording that best expresses your commitment. They are very supportive and willing to step in and help giving directions that have everyone feeling comfortable and knowing what to expect. I highly recommend them to assist in creating a a memorable event for you and your guests." – Gail Marion, Photographer