Wedding Officiant Frequently Asked Questions
Below are some Wedding Officiant Frequently Asked Questions we've gathered from previous inquiries with their corresponding answers. If you have any questions or concerns that are not listed below, please don't hesitate to give as a call or send us an email and we will do our best to answer them as soon as we can.
How much will my ceremony cost?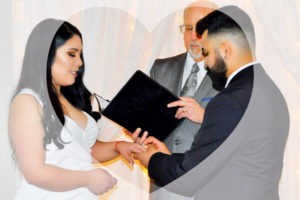 Your total fee will depend on two main factors: date and time, and location. Our fees are flexible, and can be customized to fit any budget; however, as a general rule:
• High season (April-September) weddings cost more than low season (October-March);
• Weekend (Friday-Sunday) weddings cost more than weekdays (Monday-Thursday); and
• Local (King or Snohomish county) weddings cost less than far, far away.
Every wedding, regardless of size, receives the same care and attention to detail. You can use our Information Request Form to give us the details of your wedding, request a discount, and get an exact price quote.
What is the retainer required to secure your services?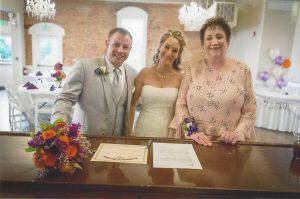 The initial retainer to reserve your date and time is currently $200.00.
What forms of payment do you prefer/accept?
We accept the following methods of payment for your initial retainer:
· Paypal: There is a button toward the bottom of our Web page specifically set up to do this. If you use this method,please be aware that Paypal takes an additional 3% (about $6.00) for processing (This additional fee is not applied to your total fee).
· Venmo (https://venmo.com). There is no processing fee to use Venmo.
· Cash
· Personal or Cashier's check
· Money order
· Bars of gold (may require additional postage 🙂
What if we decide to cancel our wedding, or go with a different Officiant? Is our deposit refundable?
In accepting your initial retainer, we guarantee that one of us will be available at the desired date and time to perform your wedding. The only way we can do this is to turn away other couples inquiring about your date. For this reason, should you decide to cancel our services for any reason, your initial retainer will not be refunded.
What happens if we need to reschedule?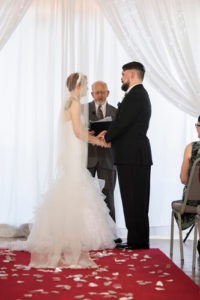 As long as one of us is available to perform your wedding, we're happy to make the change at no additional cost. However, if you elect to reschedule and neither of us is available on the new date, then our obligation to you will end. Any money you've already paid (excluding your initial retainer) may be refunded at our discretion, and we will do our best to help you find another Officiant.
What happens if you are unable to perform the ceremony due to illness, accident or other unavoidable circumstances?
In over ten years as Seattle wedding officiants, we haven't missed a wedding (knock wood), but we realize that eventually, something may occur that keeps us from fulfilling our obligation to you. If, for any reason, we are unable to perform our duties as agreed, and we fail to provide you with a qualified replacement to officiate your wedding, we will offer our services at no additional charge on a date and time of your choosing (subject to availability). If this is unacceptable, then all fees paid (excluding your initial retainer) will be refunded to you.
Do you charge for in-person meetings?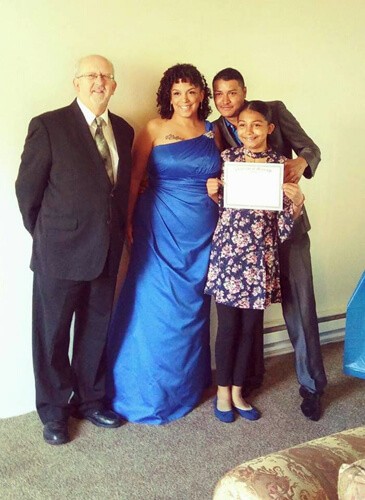 Our initial consultation is always free. Subsequent in-person meetings may incur a small additional cost, and will depend upon our availability. 
What happens after we pay our initial retainer?
When we receive your retainer, we send you our complete Ceremony Design Packet, consisting of multiple e-mail attachments in Microsoft Word format (if you have any problem opening or reading them, we can convert them to virtually any format you need). The Packet contains numerous complete ceremonies of different lengths, styles and themes, both religious and non-religious, along with enough individual "mix-and-match" ceremony design elements to allow you to create hundreds of unique ceremonies! Your challenge is to figure out what you want…and have fun doing it!
If at any point you need more material, we will gladly provide it and, of course, we're always available to respond to your questions or concerns! Most couples have told us that creating their ceremony was the most fun…and least stressful…part of their wedding planning!
What is included in the fee?
Our standard wedding package includes all of the following:
– Our initial consultation (no obligation, of course)
– Everything we do together to create your ceremony
– Unlimited phone and e-mail support and guidance
– Time and travel
– Our award-winning Ceremony Design packet, full of great ideas to make creating your perfect ceremony simple, fun and entertaining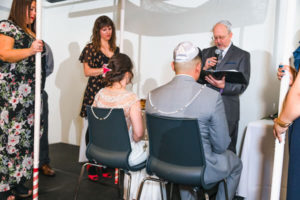 – Filing of the official documents with the County Auditor/Recorder
– A beautiful keepsake Certificate, suitable for framing
– "Day-of" rehearsal (up to 60 minutes before the wedding)
We're also the only Officiants (we know of) who offer a free vow renewal with every wedding ceremony. Just let us know when you're ready to rekindle the flame and we'll find a place for you on our schedule!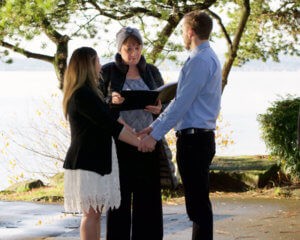 Do you offer any discounts?
In addition to a "mini" wedding package for small groups, we offer discounts if either of you is Active Military or First Responder. We also discount if you're getting married during the week (M-Th), or during the low season (Oct-Mar). Be sure to let us know if you qualify for one of these discounts.
Can I combine discounts?
Sorry, we can only offer one discount per wedding.
What if we need to rehearse on a separate day?
If you decide to rehearse on a separate day and would like one of us to attend, there's an additional charge for time and travel to the location. For most of King/Snohomish counties, the cost is $75.00. For other locations, the amount depends on time and distance. We are always happy to conduct your rehearsal from start to finish, should you request it.
As a cost-free alternative, we offer a helpful "D.I.Y." guide to conducting your own rehearsal, which steps you through the entire process in a clear, organized manner. Many of our couples have used this method with great success over the years.
Are there any additional costs we should know about?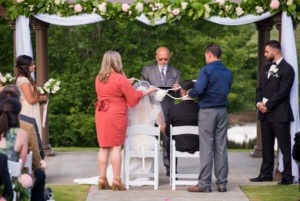 Occasionally, situations do arise that may require an additional charge:
• If travel to the venue requires a ferry ride, the cost of the fare will be added to our fee. During peak wedding months (April-September), you may also incur an additional charge if we have to wait more than one hour for a boat.
• If your venue charges a use or admission fee (e.g., a State or National Park, Botanical Garden or other recreational site), we may ask that you reimburse us on the day of the ceremony.
• Any unusual charges to get to your ceremony site on the day of your wedding (e.g., a chair lift if you are getting married at the top of a mountain, etc.) may also be added to our fee.
Do you require a contract?
You will be asked to approve and sign a standard contract form that confirms the booking details and provides all pertinent information regarding the event. This protects everyone concerned, and precludes future misunderstandings.
When is the balance due?
Your remaining balance is due any time before the wedding starts. The majority of our couples have chosen to pay in cash on the day of the wedding. You're also welcome to pay by check, or in "installments," if that's easier for you, as long as your final payment reaches us no fewer than ten (10) days prior to the wedding.
Is it customary to tip the Officiant?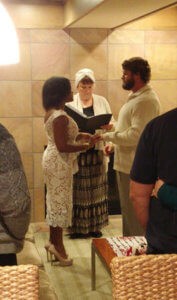 Gratuities are not expected, but always appreciated!
Do you normally stay for the reception?
We never assume we're invited to post-wedding activities (like dinner), but in most cases, we're honored to stay, if asked (assuming we don't have another engagement scheduled after yours).
How long does the "typical" wedding ceremony last?
Most non-denominational weddings last from 15-20 minutes, including the walk-in and walk-out, but of course, the exact length really depends on the degree to which you "customize" your ceremony, since all ceremony content is up to you. In our experience, however, ceremonies lasting much more than 20 minutes tend to drag, and after 30 minutes, the snoring from the audience can become a serious distraction!
Kidding aside, the idea is for your guests to remember your ceremony for how interesting, beautiful, intimate and elegant it was…and not for how long it lasted!
Can you purchase our Marriage License for us? If not, how and when do we pick it up?
Unfortunately, we cannot purchase your Marriage License for you. You should apply for it in person at the office of any County Auditor/Recorder. The cost of the license packet is about $65.
Bear in mind that Washington State requires a three-day waiting period after you purchase your License before you can be married, but since the License is valid for at least 60 days, there's no harm in picking it up earlier, rather than later.
There may be other requirements which vary from county-to-county and you should always do your homework to avoid unpleasant surprises. For complete details, click here, then click the link for the county where you plan to purchase your License.
Do we have to purchase our Marriage License and be married in the same county?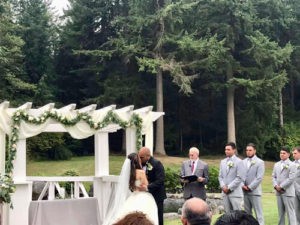 No. You can purchase your License in any Washington county, regardless of where you plan to be married.
How early do you arrive at the venue on the day of the wedding?
If rehearsal was held on a separate day, then we usually arrive about 30 minutes early to coordinate with other vendors (disc jockeys, musicians, photographers, etc.) If you've chosen to rehearse before the ceremony, then we normally arrive at least 60 minutes early to allow enough time for a run-through. We can rehearse the men and the women separately if the bride and groom don't want to see each other before the wedding.
Do you offer, or require premarital counseling before the wedding?
We don't offer premarital counseling at this time. Should you decide you need it, we can refer you to an appropriate provider.
Would you allow another Officiant, possibly of a different religion, or a friend or relative to take part in the ceremony?
Of course! In fact, we encourage it. Different voices always make a ceremony more interesting for everyone.
Are there any restrictions on music, decorations, readings, photography?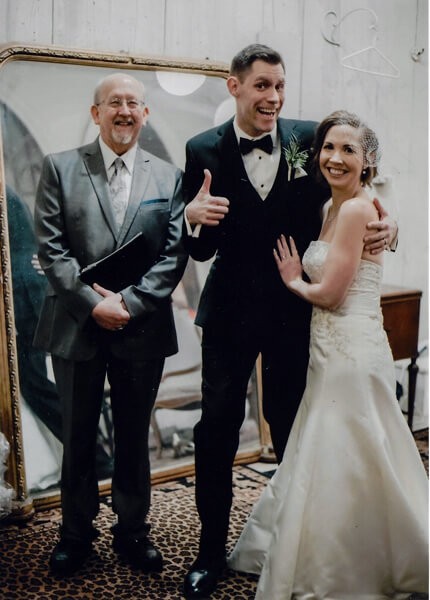 Not from us, anyway. As long as it's legal (in Washington state, at least), bring it on!
How long have you been performing weddings?
We have offered wedding services to couples in Western Washington since 2006.
Will we always be able to contact you if we have additional questions or need more information?
Absolutely! Our fee includes unlimited phone and e-mail support, and neither of us goes to bed early!
We don't have a venue for our wedding yet. Can you help us find one?
Of course. We've performed weddings all over Washington state, and we're very familiar with appropriate locations. Just let us know the type of venue you'd like, and your approximate budget, and we'll do whatever we can.
In addition, be sure to check out our Favorite Vendors page for a list of some of our favorite venues.
Are we allowed to write our own wedding vows?
Not only allowed, but encouraged. The wedding vows are the most intimate part of your ceremony, and should always come from the heart. However, if you hit a creative wall, we provide dozens of sample wedding vows in our Wedding Packet for you to choose or modify.
Is there anywhere you won't go to perform a wedding?
Well, if there is, we haven't found it yet! We have done ceremonies indoors and outdoors, in hotels, restaurants, banquet halls, private homes, condos, parks, forest preserves, chapels, on golf courses, hiking trails, boats, and many other locations. As long as we can get there safely, we'll go where the wedding is!
What do you wear when you officiate a wedding?
Our dress for the ceremony is always appropriate to the formality of the occasion, and we always confirm our attire with the couple prior to arriving at the venue. Since we are non-denominational Officiants, we do not wear religious robes or vestments.
Are you willing to incorporate elements from other cultures or religions?
We find the wedding customs and traditions of other cultures and religions fascinating, and would be happy to learn about, and incorporate, appropriate elements into your wedding ceremony.
If we decide to incorporate a wedding tradition in our ceremony like the Unity Candle, Handfasting or Blending of the Sands, do you provide the necessary materials?
We don't. You are responsible for any "props," such as sand, candles or cords, that your ceremony requires. Most of these are readily available from local wedding and hobby shops (e.g., Michael's, Hobby Lobby), and you can also purchase them online. We will be happy to help you find whatever you need.
Do you offer weddings in other languages?
Yes! We also offer Spanish and bilingual wedding ceremonies!
Do you perform same-sex marriages?
We always offered commitment ceremonies for LGBTQ couples, and we are thrilled to finally be able to offer same-sex weddings legally!
Do you ever accept a wedding on short notice? Does it cost more?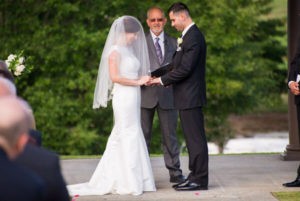 Although most weddings are planned well in advance, occasionally a sudden need arises, usually with very little advance notice (if any). When that happens, if one of us is available, we're happy to help. We normally don't charge extra for last-minute bookings.
Will you make an announcement after the ceremony directing people to the bar, reception, family photo shoot, etc.?
Sure! Just tell us what you would like us to say.
I want to take my husband's last name after we're married. Can you help?
After the wedding, we send you detailed information about the process required to officially change your name and obtain proof-of-marriage in Washington state.
And finally…there are lots of other Officiants to choose from. Why should we book you?
Great question! You're right: there are a lot of other Officiants in the Seattle area…and we're friends with most of them!
Choosing someone to officiate your wedding should be about trust and connection, but here are some things you might also consider while you're making your decision:
We've earned prestigious awards from WeddingWire, Thumbtack and other wedding websites for the quality and professionalism of our service.
We have recently been voted #2 Wedding Officiants in the King 5 Best of Western Washington competition, sponsored by Evening Magazine, and #1 Wedding Officiants by the Seattle A-List.
We've kept our fees low for over 10 years, only raising them when it became absolutely necessary (like when the price of gas went through the roof).
We know all about living within a tight budget. We believe you should not have to bankrupt yourselves to get married. Our goal is to help you keep your wedding affordable.
We offer discounts for active military, First Responders, weekday and low-season dates.
We specialize in Spanish and bilingual ceremonies, same-sex and short-notice weddings!
If you're still on the fence, perhaps a visit to our Testimonials page will give you a better idea of the quality of service we offer.